[Disclaimer: As an Amazon Associate, PublishingState.com earns from qualifying purchases.]
Table of Contents
Introduction
Let's explore some of the best audiobooks of 2023.
Audiobooks have become an increasingly popular way to experience literature and expand knowledge. The audiobook industry has grown tremendously in recent years as more people discover the unique benefits of listening to books.
In 2022, the global audiobook market was valued at $5.4 billion and is anticipated to reach USD$6.9 billion in 2023.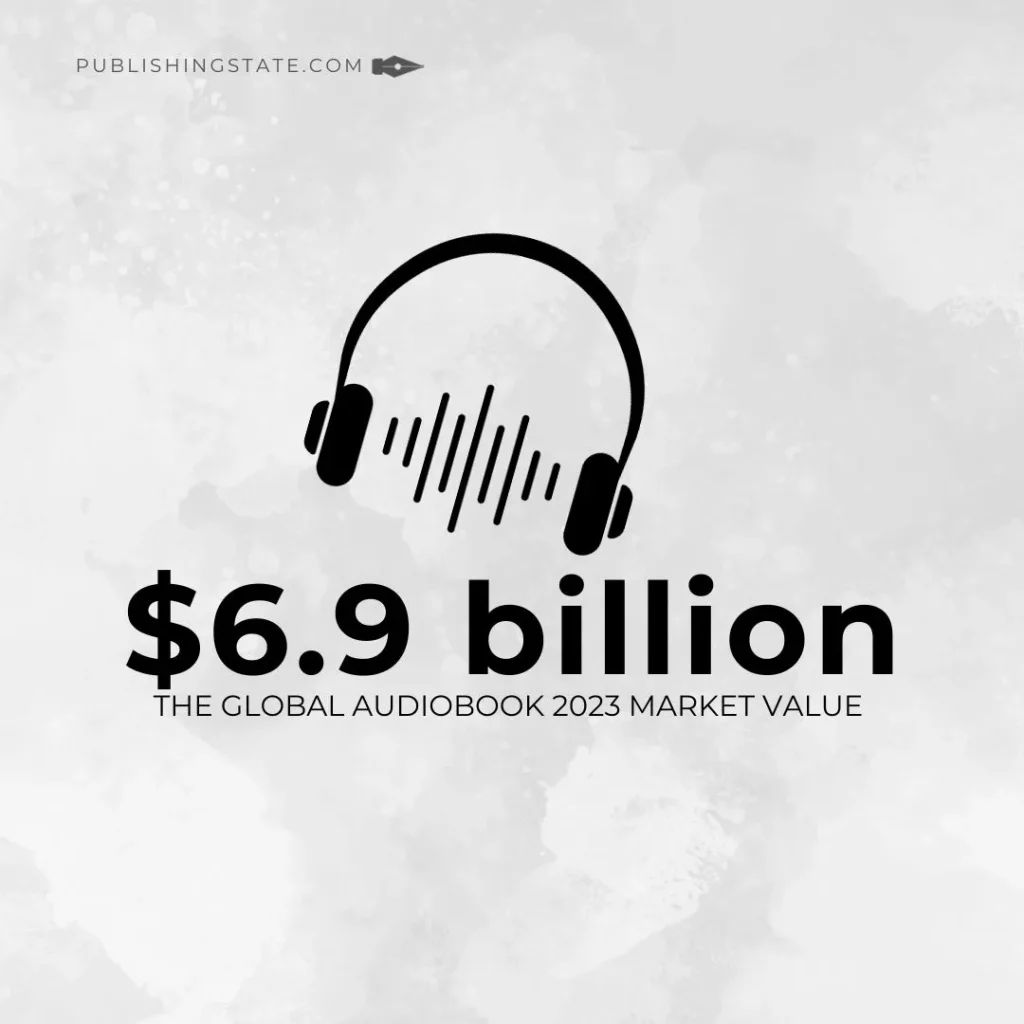 With this guide, we aim to highlight the best audiobook releases of the coming year and showcase why this format is worth exploring.
What is an Audiobook?
An audiobook is a recorded version of a book or other written material that can be listened to rather than read. It is typically narrated by a professional voice actor, author, or notable personality and can be enjoyed on various devices such as smartphones, tablets, computers, or dedicated audio players.

Audiobooks come in various genres, including fiction, non-fiction, self-help, science, history, and more. They are often used by individuals who may not have the time to sit down and read a physical book or by those who prefer to consume content audibly. Audiobooks also provide an accessible alternative for people with visual impairments or reading difficulties.

In recent years, the production quality of audiobooks has significantly improved, with some even featuring full-cast performances, sound effects, and music, offering listeners a rich and immersive storytelling experience.
The Rise of Audiobook Popularity
Once seen as a niche format, audiobooks have now entered the mainstream. Easy accessibility through smartphones and services like Audible have exposed them to a broader audience. For many, audiobooks provide an easy way to fit more reading into busy schedules. Their hands-free nature also makes them ideal for multitasking activities like commuting, exercising, or doing chores.
Benefits of the Listening Experience
But audiobooks offer much more than just convenience. Listening to a book can feel more intimate and immersive than reading text on a page. Skilled narrators bring stories to life with engaging vocal performances. Audiobooks also provide accessibility for those with vision impairments or learning disabilities like dyslexia. Ultimately, they offer a unique way to absorb literature that print cannot replicate.
Previewing the Best Audiobooks of 2023
With major new releases generating buzz, 2023 has become an exciting year for audiobooks. This guide will comprehensively examine the most anticipated titles across fiction, non-fiction, and other genres.
We'll break down what makes each audiobook stand out, from star-studded casts to groundbreaking performances. Whether you're a lifelong audiobook fan or looking to try them for the first time, this post will help you discover the very best listening experiences that 2023 has to offer.
Some of the Best Audiobooks of 2023
With so many options to choose from, it can be overwhelming to find the very best audiobooks worth your time. Here's our guide to some of the most exceptional audiobooks released in 2023.
Best Fiction Audiobooks
The Maid by Nita Prose, narrated by Lauren Ambrose – This charming, cozy mystery audiobook features a neurodiverse protagonist working to solve a murder in a hotel. Ambrose's narration brings the quirky characters to life.
Lessons in Chemistry by Bonnie Garmus, narrated by Miranda Raison – An empowering story of an independent woman in the 1960s brought vividly to life by narrator Raison. This audiobook has received rave reviews.
The House in the Pines by Ana Reyes, narrated by Marisol Ramirez – A haunting thriller audiobook with a full cast that draws you into the disturbing secrets hidden in a small town. Vacker's narration is particularly chilling.
Best Nonfiction Audiobooks
I'm Glad My Mom Died by Jennette McCurdy, narrated by the author – Former child actor, McCurdy's raw and emotional memoir about abuse, is even more powerful when narrated in her voice.
The Light We Carry by Michelle Obama, narrated by Obama herself – The former United States First Lady shares timely wisdom and hope in this inspiring self-help audiobook brought to life by narrator Miles.
The Philosophy of Modern Song by Bob Dylan, narrated by Jeff Bridges and Steve Buscemi – Dylan offers unique insights into 66 iconic songs. Hearing the legendary artist reflect in his gravelly voice makes this a special listening experience.
With captivating narration and compelling stories, they showcase the engaging, immersive experience that the audiobook format can provide. Audiobook lovers have so much to look forward to.
What Makes an Audiobook Great
The elements that set a truly great audiobook apart from an average listening experience are multifaceted. At the core is an engaging story brought to life through skilled narration and high production quality. But some special touches can elevate an audiobook to the next level.
Engaging Narration and Vocal Range
A narrator can make or break an audiobook. The best narrators become masters of vocal characterization, seamlessly transitioning between genders, ages, accents, and emotions. Their inflection and delivery pull the listener into the story.
An expressive narrator like Jeremy Irons breathing life into Lolita or Imogen Church narrating Good Me Bad Me immerses the audience into the characters' perspectives.
Top narrators understand the characters on a deep level. They avoid sounding flat, awkward, or unconvincing when voicing different genders. Their tone fits the mood and genre. An excellent audiobook narrator rides the story's energy, reacting and responding as if they are living the tale.
Production Quality and Format
While narration sets the tone, production quality ensures an audiobook sounds crisp and clear. Audiences expect professional editing with no distracting background noise. Seamless chapter transitions and properly timed pauses engage listeners.
Unique formats also enhance audiobooks. A full cast recording allows different actors to voice specific roles. Sound effects and music add texture. Radio play adaptations provide an immersive, dramatized take. These special touches transport the listener into the story.
Bringing Characters to Life
Ultimately, great audiobooks allow listeners to connect with characters and stories intimately. The narrator's skilled performance enables the imagination to conjure each scene vividly. Suspension of disbelief is easier when a talented narrator breathes life into the characters. No matter the genre, an excellent audiobook makes the listener feel invested in the characters' journeys.
Why Audiobooks Are Worth Exploring
Audiobooks offer several advantages that are worth exploring for many readers and listeners. Here are some of the critical benefits audiobooks provide:
Convenience for Multitasking
One of the best things about audiobooks is that they allow you to multitask while "reading." You can listen to an audiobook while driving, exercising, doing chores, or engaging in other activities that make reading a physical book difficult. This makes it easy to fit more reading into your busy schedule.
Accessibility for the Visually Impaired
Audiobooks provide an excellent way for those with visual impairments or reading disabilities like dyslexia to enjoy books. The audio format makes content that would otherwise be very difficult to read accessible.
Immersive Experience
Listening to an audiobook can provide a uniquely immersive experience, letting you get lost in the story. Skilled narrators bring characters and scenes to life in a way that activates the imagination. According to some experts, this can have benefits similar to reading to engage the brain.
Language Learning and Pronunciation
Audiobooks allow language learners to hear proper pronunciation and inflection while following along with a written version of the text. This can significantly improve listening comprehension and speaking skills. Audiobooks in foreign languages are also a great supplement to traditional language classes.
While some argue audiobooks don't provide all the same benefits as reading, they offer unique advantages that make them a worthwhile format to explore. Audiobooks provide convenience, accessibility, and a uniquely immersive experience that enriches the lives of many listeners.
Where to Find the Best Audiobooks
With the growing popularity of audiobooks, there are now many great places to find high-quality titles online. Here are some of the top sources for free and paid audiobooks:
Reputable Sources for Free Audiobooks
If you're looking to listen without spending any money, check out these sites offering free public-domain audiobooks:
LibriVox – Volunteer narrators record books in the public domain. Features classic literature and more.
Lit2Go – An online collection of poetry, short stories, and novels from the Florida Online Reading Initiative.
Audiobooks.com – Offers a rotating selection of free audiobooks from major publishers.
Popular Paid Platforms
For premium selections, these popular platforms give you access to bestsellers and new releases for a monthly fee:
Audible – Amazon's audiobook service with the largest selection of titles. Offers membership credits and sales.
Scribd – Besides ebooks, offers an extensive audiobook catalog for its monthly subscription.
Downpour – Leading independent audiobook retailer with competitive pricing and DRM-free downloads.
Choosing Reliable Sources
When selecting an audiobook source, prioritize quality over quantity. Seek sites with clear audio quality, professional narrators, and seamless user experiences. Checking reviews can help determine if a platform offers engaging, high-caliber recordings of books worth your time.
With the right sources, you can build an exceptional audiobook library and take your listening to the next level.