Table of Contents
[Disclaimer: As an Amazon Associate, PublishingState.com earns from qualifying purchases.]
Introduction
The write-up discusses some critical lessons from Satya Nadella's book, Hit Refresh, a bestseller describing Nadella's journey in Microsoft.
Satya Nadella has transformed Microsoft into one of the world's most valuable companies since becoming CEO in 2014. His leadership and vision for the future have reinvigorated the technology giant. Nadella's story is chronicled in his 2017 book Hit Refresh, which provides valuable insights into his management philosophy and drive for innovation.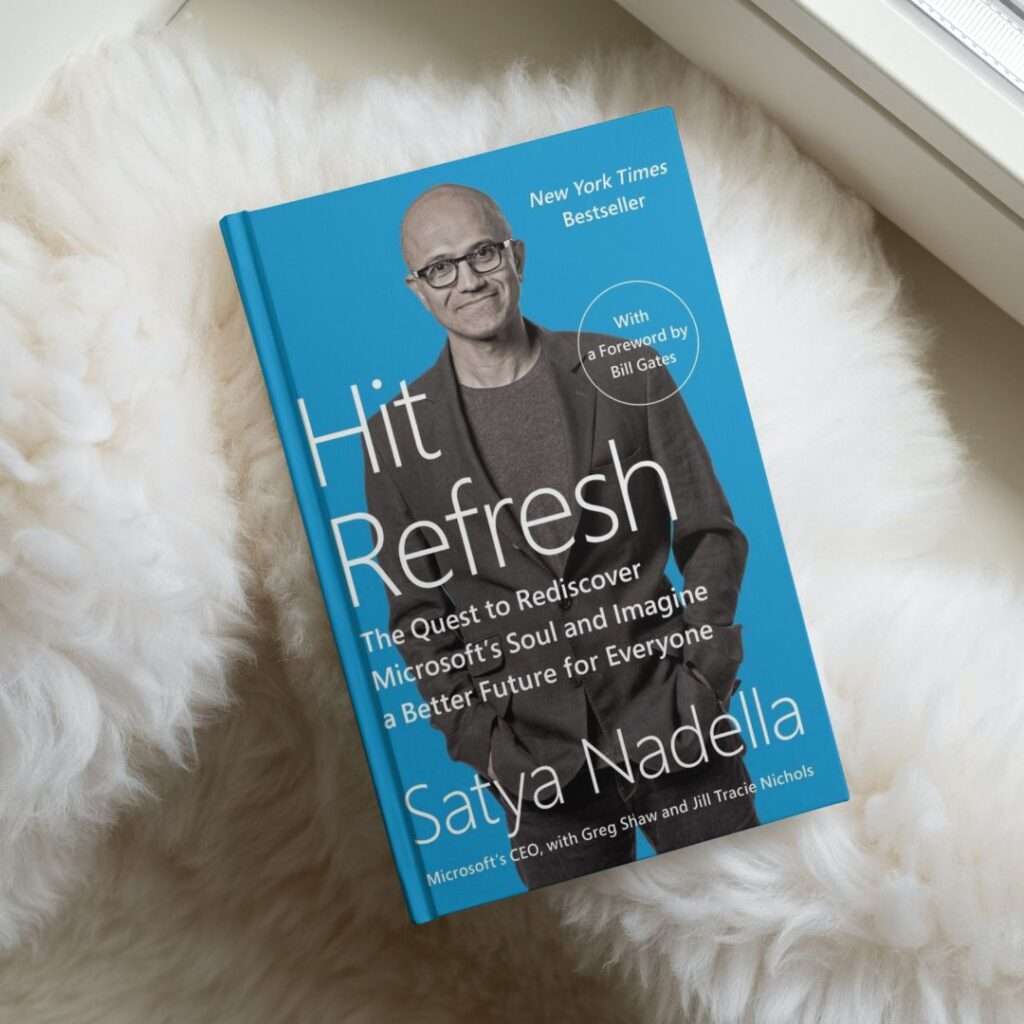 As CEO, Nadella inherited a company struggling to find its place in a shifting tech landscape. However, he quickly implemented changes to reinvent Microsoft's culture and business model. His push towards services like cloud computing and artificial intelligence has made Microsoft relevant again. Under Nadella's leadership, Microsoft's market value has tripled.
Hit Refresh gives readers an inside look at Nadella's personal journey and leadership style. He emphasizes the importance of empathy, a growth mindset, and purpose-driven work. The book mixes memoir, management theory, and vision for the future. For anyone interested in technology, business, or personal growth, Hit Refresh is an engaging read.
Nadella's transformative impact on Microsoft highlights the significance of visionary leadership. His willingness to challenge the status quo and focus on the future makes him one of today's most influential CEOs. Hit Refresh provides excellent insight into how he has reinvigorated an American corporate icon.
The Hit Refresh Book
Written by Microsoft CEO Satya Nadella, Hit Refresh provides an intimate look into his journey and the strategies he has used to transform Microsoft into a leading innovator in the technology industry. Through candid anecdotes and reflections, Nadella explores several key themes and ideas that have shaped his leadership philosophy.
The Book Details Nadella's Life Experiences
Hit Refresh traces Nadella's life from growing up in India to becoming CEO of Microsoft. He shares how his upbringing and early interests in cricket and literature influenced his worldview.
Nadella also discusses poignant personal events, like the birth of his son Zain, who has cerebral palsy. By opening up about his background and family, Nadella humanizes himself and demonstrates the power of empathy in leadership.
Key Concepts Such as Growth Mindset and Empathy
Throughout the book, Nadella emphasizes concepts like having a growth mindset, the importance of teamwork, and getting the most out of employees. He frequently references his belief that empathy is crucial in business and that great leaders need to understand what motivates people. Nadella argues that these principles were vital to changing Microsoft's stagnant culture into one focused on innovation and the future.
Insights into Transforming Microsoft
Hit Refresh also provides insights into Nadella's strategies for transforming Microsoft. He discusses difficult decisions like restructuring the company's engineering teams and shifting priorities to cloud computing and artificial intelligence.
By detailing his reasoning behind moves like acquiring LinkedIn and Minecraft, Nadella gives readers a window into how he has reimagined Microsoft's mission and products.
Why is Hit Refresh Important?
Satya Nadella's book "Hit Refresh" provides valuable insights for anyone interested in leadership, innovation, and personal growth. Here are some of the key reasons why this book is so important:
Nadella's Leadership Style and Strategies
Hit Refresh gives readers an inside look at Nadella's leadership journey. He shares the management philosophies, values, and approaches shaping his tenure as Microsoft's CEO.
For example, Nadella greatly emphasizes having a "growth mindset" open to change and learning. He also stresses the importance of empathy, diversity, and collaboration in driving innovation.
Exploring How Microsoft was Transformed
The book provides a unique perspective into how Nadella spearheaded Microsoft's transformation into a more agile, collaborative, and cloud-focused company.
He drove significant cultural and organizational shifts to reinvigorate innovation at the technology giant. Hit Refresh highlights critical decisions like Microsoft's expanded focus on cloud services, artificial intelligence, and cross-platform capabilities.
Distilling Personal and Leadership Lessons
While Hit Refresh chronicles Nadella's career, it also imparts broader lessons about values-based leadership, overcoming challenges, and maintaining continuous growth. Nadella reveals personal stories and struggles on his journey that led to valuable insights.
For example, he highlights the importance of empathy, advocating for women in technology, and establishing trust through authenticity.
It Provides Inspiration for Change
Hit Refresh is ultimately a call to action for driving transformation – not just within companies but also within ourselves. Nadella's push for a "growth mindset" inspires readers to get comfortable with change and view setbacks as learning opportunities. His journey can motivate individuals, teams, and organizations to push boundaries continuously.
How did Satya Nadella Transform Microsoft?
When Satya Nadella took over as CEO of Microsoft in 2014, the company struggled to find its place in a world rapidly shifting to mobile and cloud computing. Microsoft's Windows operating system and Office suite still dominated the PC era, but the company had missed significant technology trends like smartphones and cloud services.
Nadella made bold moves to transform Microsoft into a cloud-first, mobile-first company. One of his first decisions was to make Microsoft Office apps available on iOS and Android devices. This opened Office to millions of smartphone users and signaled that Microsoft would embrace rival platforms.
Pivoting to the Cloud
Under Nadella, Microsoft made cloud computing central to its strategy.
He pushed the company to build Azure into a major public cloud platform that could compete with Amazon Web Services. Microsoft invested heavily in Azure infrastructure and tools for developers. Azure revenue soared under Nadella, becoming Microsoft's primary source of growth.
Nadella also led the acquisition of GitHub, the popular open source code repository. This allowed Microsoft to connect with millions of developers around the world. Today, GitHub is deeply integrated with Azure cloud services.
A Culture Shift
In addition to technology shifts, Nadella focused on transforming Microsoft's internal culture. He encouraged more collaboration, creativity, and a growth mindset. Nadella was willing to acknowledge Microsoft's past failures and learn from them. He also placed greater emphasis on diversity and inclusion.
The Results
Nadella's changes re-energized Microsoft and made it more relevant. Under his leadership, Microsoft's stock price tripled, and its market cap exceeded $1 trillion. The company maintained its enterprise strength while expanding into consumer products like Surface PCs and Xbox. It built competitive cloud tools like Teams. Most importantly, Microsoft regained its reputation as an innovator.
The Future of Tech Leadership
The future of tech leadership, as evidenced by Satya Nadella's tenure at Microsoft, will be characterized by a few fundamental principles:
Embracing a Growth Mindset
The fast-paced nature of the technology industry requires leaders to adopt a growth mindset. This involves being open to new ideas, embracing change, and continuously learning. Under Nadella's leadership, Microsoft embraced this principle, transforming from a company struggling with relevance to a leading innovator in cloud computing and AI.
Prioritizing Empathy
Tech leaders of the future will need to prioritize understanding the needs and motivations of their teams, customers, and stakeholders. Nadella highlighted empathy as a critical component of his leadership style, believing it is central to innovation and customer-centricity.
Encouraging Diversity and Inclusion
Future tech leadership will need to foster diversity and inclusion within their organizations. Diverse teams bring a variety of perspectives, fostering creativity and innovation. Nadella made diversity and inclusion a priority at Microsoft, recognizing its value in driving innovation.
Cultivating Collaboration
The complexity of modern technology problems requires collaboration across disciplines and teams. Leaders must create an environment that encourages collaboration and breaks down silos. Nadella transformed Microsoft's culture into one that values teamwork and cross-functional collaboration.
Driving Digital Transformation
As digital technologies evolve, tech leaders must drive digital transformation within their organizations. This includes embracing cloud computing, AI, and other emerging technologies. Nadella successfully led Microsoft through a significant digital transformation, pivoting to a cloud-first strategy.
Focusing on Innovation
The tech industry is driven by constant innovation. Leaders must create a culture that encourages experimentation and isn't afraid to take calculated risks. Under Nadella, Microsoft has regained its reputation as an innovator, showing the importance of a culture focused on continuous improvement and exploration.
Building Trust Through Authenticity
Authentic leaders inspire trust in their teams, which is crucial for effective leadership. Nadella's authenticity demonstrated through sharing personal stories and experiences, helped him connect with employees and build a more open, honest culture.

A growth mindset, empathy, diversity and inclusion, collaboration, digital transformation, continuous innovation, and authenticity will characterize the future of tech leadership. Leaders who can embody these principles, as Satya Nadella has done at Microsoft, will be well-positioned to navigate the rapidly evolving tech landscape.
Conclusion
In this write-up, we explored the lessons from Satya Nadella's Hit Refresh book that documents his remarkable journey and the transformative impact of his leadership. By embracing a growth mindset and focusing on empathy, innovation, and purpose, Nadella was able to guide Microsoft through a difficult period and reinvigorate the company's culture and business.
Some of the key takeaways discussed include:
How Nadella took over Microsoft at a challenging time and implemented changes to make the company more collaborative, growth-oriented, and focused on the cloud and AI.
The core themes from Hit Refresh are having empathy for customers and coworkers, driving innovation, and finding your sense of purpose.
The tough decisions Nadella made to transform Microsoft's stagnant culture and product lines into more agile and future-looking ones.
The positive results of Nadella's leadership in re-energizing Microsoft's workforce, building trust, and delivering strong growth and profits.
Hit Refresh provides valuable insights and lessons that can benefit leaders in any industry who want to drive change in their organization. The book highlights the importance of having a clear vision, being willing to make hard choices, and connecting with people's passions.
Reading Hit Refresh is an inspiring way to gain insights into successful leadership and transformation in times of change. Nadella's story offers lessons for anyone looking to make an impact in their organization and the world.