Ready for MyCyberSale 2017?
MyCyberSale 2017, the fourth event in the mega cyber sale series will be coming up in Malaysia soon. This year, the  event, dubbed as the country's biggest online sale, will be held between 9 and 13 October 2017.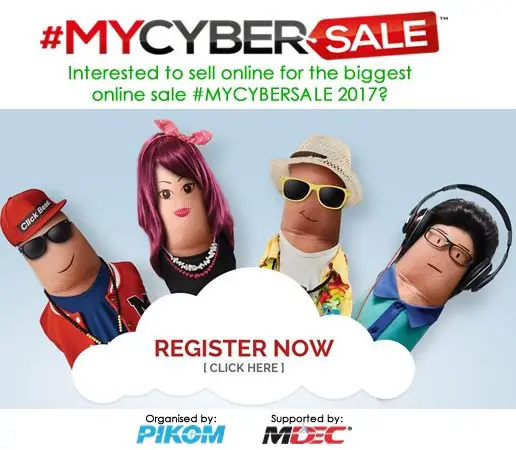 With the inaugural event held successfully in 2014, the MyCyberSale has entered its fourth year now.
MyCyberSale is organised by the Multimedia Development Corporation (MDEC). This time around, MDEC will be collaborating with the Persatuan Industri Komputer & Multimedia (PIKOM) in effort to launch a major nationwide campaign.
The aim?
To generate RM300 million of sales in the 5-day event.
MyCyberSale is an effort driven by the Digital Malaysia initiative with goals to grow the e-commerce industry, and boost online shopping confidence among Malaysians.
During MyCyberSale, What Will be on Sale?
A lot of stuff.

These include books, travel services, fashion items, clothing, gadget and electronic devices, gifts, home appliances, wellness products, sports equipment, baby products and many more.
Closing Date for e-Tailer Registration
Tomorrow, 31 August, Malaysia's Merdeka Day, will be the last day of e-tailer registration.
e-tailer registration is free. Sellers wishing to be the e-tailers in this MyCyberSale 2017 are required to have a registered company (with the Suruhanjaya Syarikat Malaysia or SSM), own or operate e-commerce or online marketplace, and must be willing to give out "crazy" deal to buyers.
Last year, the MyCyberSale 2016 was a smashing success, generating RM211 million in sales, surpassing the target of RM200 million.